The LivingWell and Healthy Back Institute Presents LoseTheBackPain.com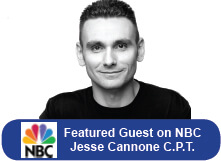 Jesse Cannone suffered from back pain for many years before discovering the techniques and treatments that finally brought him relief. As co-founder and CEO of The Healthy Back Institute, Cannone is dedicated to spreading the word of natural treatments that alleviate pain and offer tips help people lead healthier, happier lives. His work as a personal trainer and post-rehabilitation specialist has delivered the insights needed to help individuals relieve discomfort and avoid dangerous, expensive surgeries and other invasive treatments.
Combining his specialist experience and research that included drawing on the wisdom of the world's leading health experts, Cannone developed innovative and highly-effective treatments. He maintains popular print and electronic publications and is a well-respected guest on established television and radio programs, in addition to health seminars and contributions to magazines and newspapers.
Cannone's work includes practical guides and supplements to help relieve back pain naturally. His publications have influenced millions of lives in hundreds of countries worldwide, and he continues to make advancements in the worlds of natural pain relief and improved wellness.
| | | | |
| --- | --- | --- | --- |
| Natures Anti-inflammatory | Pain Relief Cream | Advanced Joint Formula | Damaging Mineral Imbalances |
* Individual results may vary depending on many factors, including your medical conditions and personal approach.